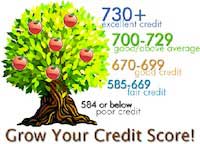 The "free" credit score is a myth. Your report is indeed free—you're entitled to one from each of the three major credit bureaus each year, through AnnualCreditReport.com—but your score is not, even though it's often advertised as such. The only time you'll receive a "free" score is when you're denied credit, the cost of credit increases, or you apply for a mortgage, among other reasons.
Nothing is free, not even the so-called 'no-fee' mortgages that lenders are pushing. Still, one might be right for you. Here's how to tell.
If you're shopping for a mortgage, you've probably run into "no-fee" mortgages. They're also called "zero closing cost" or "no closing cost" mortgages. All of these phrases are downright misleading.
Dwdonhoff is a Charter Member
A Registered Fool Since January 22, 2001
Big gold star (Over 5000 posts)
Top Favorite Fools
Old School Fool
Dave's Last 10 posts
"A second mortgage broker who I trust is David Donhoff at NoBullFinancial.
"David Donhoff tells me that yesterday [4-8-09] he could get rates as low as 4.25% on a 30 year fixed with 1 point (1%). Today the buydown would be 1.8%. In other words, rates change all the time."

"We specialize in "safe, simple and certain money growth and accelerated debt elimination." All of our growth and income accounts come with principal guarantees, so you can never lose your money to market crashes… YET your money still grows (averaging 6-8%, good times and bad,) when the markets climb. Our debt elimination strategies eliminate 30 year mortgages in as little as 7 years."